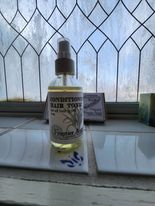 $ 18.00
Conditioning Hair Tonic
Frontier Angel is so excited to offer a lovely line of natural hair care that is exquisite for your hair and scalp and reduces waste by eliminating the plastic bottle!
Our Conditioning Hair Tonic is an all new and all natural hair conditioning experience! This leave in conditioner is lightweight enough for oily hair but manages flyaway and frizz with ease! Use in conjunction with Frontier Angel Shampoo Bars and/or Hair & Scalp Serum or on its own to scrunch curls or smooth your hair halo! It's also nice to use just in your ends to soften and protect the dry tips of your hair. The simple but elegant spray bottle allows for easy application.
Our Conditioning Hair Tonic is made with only the most wholesome essential oils and hydrosols of rosemary, lemongrass, spearmint, and lavender.